"Order of the Phoenix" Cast Talk DVD Release, Acting, and More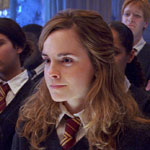 Dec 10, 2007
Uncategorized
The Winnipeg Sun has a new article online today in which actors Dan Radcliffe (Harry Potter), Emma Watson (Hermione Granger), and Rupert Grint (Ron Weasley) discuss their careers, experiences, and the DVD of their latest film, "Harry Potter and the Order of the Phoenix." The DVD, which incidentally is released Stateside tomorrow, is something Rupert Grint finds somewhat embarrassing it seems, as he says in the interview: "I don't really sit down and rewatch all the films again, but you see a lot of clips here and there. It is really sort of strange to look back and it just sort of makes you realize how long we've been doing this." Emma Watson continues on this train of thought by saying:
"It was really interesting how many different interpretations the books are open to, and how everyone had a different theory: 'Harry's going to die!' Or: 'Are Hermione and Ron going to get together?' It was really interesting and the DVD really deals with that interest and looks in depth at the films and the themes."
Dan Radcliffe explains that he is "…incredibly serious and passionate about this" and goes on to comment further on acting industry as a whole by saying:
"This is an industry that can be very fickle and can be very perfidious sometimes and will turn its back on people," Radcliffe says.

"But I hope that I can continue building up momentum and working hard just to make sure that I can actually sustain a career. My ambition is just to keep acting, essentially, and (that) means keep doing a lot of different roles. That's all I want really."
In an additional interview from the Sun, actress Evanna Lynch (Luna Lovegood) speaks of her experience becoming an actress in the Harry Potter films and of her continued passion for the books as well as the films. In response to comments made by director David Yates relating her expert knowledge of details from the series while filming, she says:
"Wow! That's very flattering for a Potter fan! That's really cool.

"But people around here, they know their Potter stuff.

"And, if not, then J.K. Rowling is just a phone call away for them, fortunately. I do correct them sometimes. But I don't think they'd go downhill if I left."
Miss Lynch also makes comments about meeting Harry Potter author J. K. Rowling, who she has met a total of six times, saying the experience is: "…always is exciting. She comes on set occasionally and I always try to steal her. She does have a magic about her and she has secrets. There is a mystery about her."
"Harry Potter and the Order of the Phoenix" DVDs will hit store shelves in North America on December 11.
Thanks radcakesfan!