Jo Rowling Updates Site, Gives Fan Site Award to the HP Alliance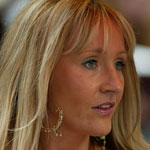 Dec 21, 2007
Uncategorized
The latest update to JKRowling.com includes info about her reaction to the sale of Beedle the Bard to Amazon, an explanation of the meaning of "The Scottish Book," as she used the term on PotterCast, and the thing that has made us all most proud today, and for which we want to extend our sincere congratulations and express how very much they deserve it: a fan site award to The HP Alliance, for their work "Becoming Dumbledore's Army," and spreading the messages of love and tolerance through the world using the Harry Potter books as inspiration. Jo says:
"Long overdue, I give you the HP Alliance (as mentioned in Time Magazine!) I am honoured and humbled that Harry's name has been given to such an extraordinary campaign, which really does exemplify the values for which Dumbledore's Army fought in the books. To Andrew and all the others who work on this most inspirational website: the world needs more people like you."
This is personal for us, too, because Andrew has been kind and giving enough to allow Leaky to take part in its efforts; we have never been more proud to be associated with this amazing group, which recently, thanks to you all, raised enough money to protect 1300 women in the Sudan region. Andrew Slack has been a unifying and heartfelt voice for the power of Harry Potter to spread love and tolerance around the world and – and forgive a little personal sentimentality here – since I just had the excellent honor of bringing this news to Andrew and he was pretty much too overcome with tears and the entire range of human emotions to speak, I think I can say what he would: That this is just the beginning. Congratulations, Andrew, the HP Alliance, and all who have supported it so far. We can't wait to see what's next.
Regarding "Beedle of the Bard," Jo recounts how she swore successively louder with each bid, and by the time the book had sold, "the air turned a lovely shade of blue." She also says how thrilled she is that the book will not be "mouldering in a vault," but brought around the world so children can see it.
As for "The Scottish Book": "There is a superstition that it is unlucky to speak the name 'Macbeth' in the theatre, so actors always refer to it as 'the Scottish Play'. Given the contentiousness that has sprung up around the Encyclopaedia lately, I simply thought we might start showing it similar respect!"