Leaky and PotterCast Present: "Harry Potter and the Sorcerer's Stone" Fan Commentary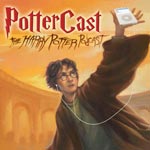 Dec 03, 2007
Uncategorized

The Leaky Cauldron and PotterCast are happy to present to you the latest addition to our fan DVD audio commentary tracks! Have your DVD players at the ready, as your PotterCast Trio is here to provide you with insight, information, and hopefully a little entertainment, as you watch the first film, "Harry Potter and the Sorcerer's Stone." It'll be just as if Sue, Melissa, and John are sitting beside you watching the film together. This audio commentary is available on iTunes as well as via direct download. An additional PAL version is available for users with "Harry Potter and the Philosopher's Stone" DVDs. That audio file, which is not available on the PotterCast feed, can be downloaded right here.
Here is a little 'How-To' on syncing this audio with the DVD film:
Follow these instructions to set up this podcast to play alongside your "Harry Potter and the Sorcerer's Stone" DVD (which you will need to own):
1. Set up your DVD in your TV/computer/console/other player, and start to play the full-length feature film.
2. When the screen goes from BLUE to BLACK, hit PAUSE.
3. Start this audio track.
4. John will count down ("Three…two…one…click"): UNPAUSE your DVD when he says "click."
5. Enjoy!
PAUSING:
As these are separate video/audio tracks playing simultaneously, pausing will pose a problem. If you pause the video first, and the audio second, unpausing the audio first and video second will probably link you up pretty closely to the earlier synchronization.
Once again, you can download the audio track via iTunes or using direct download, and feel free to participate in PotterCast discussion right here on our Leaky Lounge.
Enjoy!