Alan Rickman Attends Sweeney Todd Premiere in NYC and More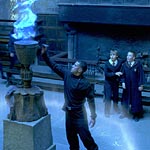 Dec 04, 2007
Uncategorized
Several members of the Harry Potter films have made public appearances at various openings, and we have some new photos to show you. First actor Alan Rickman attended the premiere of his new film "Sweeney Todd: The Demon Barber of Fleet Street" last night in New York City, and you can see new photos of the actor via this link.
Also, actresses Emma Thompson (Professor Trelawney) and Imelda Staunton (Professor Umbridge) were at a charity opening event at Ballantyne in London, England, with new photos of the two ladies available here. Hello Magazine reports this event was in support of the "Helen Bamber Foundation, which supports survivors of human rights violations."
Finally actor Mark Williams (Arthur Weasley) and Paul Whitehouse (Sir Cadogan) were part of the Christmas lights festivities at the new Stella McCartney store, and you can see some photos of this event here in our galleries.