Blu-Ray and HD DVD "Order of the Phoenix" Reviews Online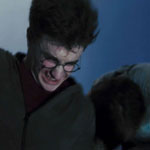 Dec 05, 2007
Uncategorized
A pair of reviews have been published today on HighDefDigest, which go into great detail about the soon to be released Blu-Ray and HD DVD versions of the "Harry Potter and the Order of the Phoenix" DVD. Both reviews highlight each of the edition's features as well as note the technical specs that enhance the viewing experience. Common with both editions is the quality of the enhanced picture, according to these reviews. Noting a 'picture window effect' which gives viewers 'some of the most three-dimensional images' the reviewer has ever seen, the review goes on to state of the visuals:
'Harry Potter and the Order of the Phoenix' is certainly a flagship next-gen title for Warner. The film is debuting on both Blu-ray and HD DVD day-and-date with the standard DVD version, and though there are some notable differences in terms of audio and extras, the one area where both high-def editions match up is this 1080p/VC-1 encode (framed at the film's original 2.40:1 theatrical aspect ratio). Warner has certainly delivered the goods, and even with the startling number of reference-quality high-def titles I've reviewed in recent weeks, 'Harry Potter and the Order of the Phoenix' easily stands tall, boasting yet another a five-star video presentation.
The review also details the platform specific special features each disc contains as well as an overall summary of the DVD as a whole. Wrapping up the reviews, each platform's DVD is said to be 'an excellent start, boasting exceptional video and audio.' The article notes however, the Blu-Ray seems to be ahead with the standard extras while the HD DVD gets points for its 'unique In-Movie Experience track and several web-enabled features.'
You can read the full Blu-Ray review right here and the HD DVD review can be found here.
Thanks Jeff!