Empire Names Rickman, Oldman, Watson, and Radcliffe Among 100 Sexiest Movie Stars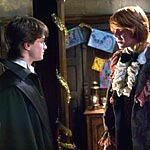 Dec 06, 2007
Uncategorized
Empire Magazine has just released their list of the 100 Sexiest Movie Stars, and a number of actors from the Harry Potter films have been named with this title. Joining the ranks of many popular and good looking actors from past and present, Harry Potter actors Alan Rickman (Professor Snape), Gary Oldman (Sirius Black), Emma Watson (Hermione Granger), and Dan Radcliffe (Harry Potter) were chosen by voters to be included on the list. Empire describes a certain defining moment for Alan Rickman, who came in at 83 on the list, as his role in the "Die Hard" film saying "Ambitious, well dressed, classically educated – if he weren't pure evil, Die Hard's Hans Gruber would be great boyfriend material," and goes on to say:
All the girls love a bad boy and no one does bad better than Alan Rickman. It's the voice that does it, that and a commanding screen presence. Such is his ability to give good evil that he even makes the oily Professor Severus Snape somehow attractive.
Following at number 72, Gary Oldman makes his place on the list for giving "even the most horrific characters a sexy edge," while Emma Watson comes in at 26 with the note: "She's grown up well through the Harry Potter movies from bushy haired child to confident, elegant young woman."
Finally, they say of Dan Radcliffe, who placed at number 23 in the rankings:
It seems like only yesterday that young master Potter first walked into Hogwarts, now he's getting his kit off in the West End – how soon they grow up. Having developed into a confident and fine-looking young actor, Radcliffe's future looks very bright indeed.