J. K. Rowling Receives 'Woman in Film and Television' Honor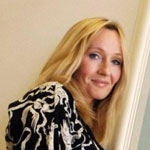 Dec 07, 2007
Uncategorized
Harry Potter author J. K. Rowling was honored this past afternoon at the 17th Annual Women in Film and Television Awards held in London, England. The event, which took place over lunch today, 'recognizes the contribution of women in the U.K. film and TV industries' and seeks to support the interests, status, and diversity of women in those industries. Variety is reporting Ms. Rowling received the Script Award, which was sponsored by the U.K. Film Council.
Images are now also online from the event courtesy of Getty. You can now see a few photos of actress Evanna Lynch (Luna Lovegood), who was in attendance at the event, here.
Congratulations Jo!
Thanks to radcakesfan for mailing!