"Deathly Hallows" Italian Cover Art Revealed; Translations Published In Israel, Norway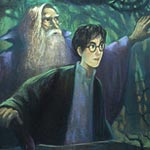 Dec 08, 2007
Uncategorized
The Italian Publishers of the Harry Potter novels, Salani Editore, have revealed the cover art for their edition of the seventh book, "Harry Potter and the Deathly Hallows." You can view the cover art for this edition right here in our Image Galleries. This translation is set for release at midnight on January 5, 2008 with the publishing company planning many release night activities prior to the midnight launch.
On a related note, we also received word this past week that translations were released in Israel and Norway. The translation of the seventh book was released in Israel on December 5th while Norway saw the book's publication on December 1st.
Thanks to Emanuele, Tony and all who mailed!