New Luna Lovegood Statue from Gentle Giant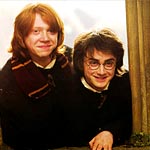 Feb 11, 2007
Uncategorized
Well the new pics keep on turning up; now we have our first look at a new Luna Lovegood mini bust as part of the new collection from Gentle Giant for the release of Harry Potter and the Order of the Phoenix. As seen via WizardUniverse.com, you can see this new statue of Luna here. Note Luna's fab earrings, the cork necklace, a spider ring, and she also seems to be holding what is perhaps the infamous Quibbler.The role of Luna Lovegood is played in the new movie by actress Evanna Lynch.
Gentle Giant has a whole range of new Harry Potter products due this year, including this and the Merperson one we first told you about yesterday. We will update when these become available in our Cauldron shop.
Thanks Hermioneslave for the heads up!