Sean Biggerstaff Talks "Cashback," Quidditch and Life after Potter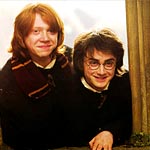 Feb 11, 2007
Uncategorized
Actor Sean Biggerstaff, known for his role as Gryffindor Quidditch Captain Oliver Wood, is the subject of a new interview in the Scotsman where he discusses landing a part in the Harry Potter films, and what happened as his character was written out of the third movie. Sean relays again that actor Alan Rickman (Professor Snape) put in a good word for him when they were casting the part for the Harry Potter and the Sorcerer's Stonesaying "I don't know how much of a factor it was, but certainly a recommendation from Alan is no bad thing in this business." Sean also goes on to describe what happened as the decision was made not to have him return for Harry Potter and the Prisoner of Azkaban.
"Though only a minor character, he got a bizarre taster of the devotion Potter-mania inspires when it was announced he wouldn't be in the third film. Fans started an online petition, even threatening a boycott if he wasn't reinstated. He's not bitter about being cut, though. "I was at the read-through but [producer] David Heyman called and said: 'As it stands, you're a glorified extra and that's a waste of your time and our money. Sorry.' But, you know, what's the difference between doing two and doing three?"
Sean has since gone on to star in a successful short film Cashback, that has since been remade into a full length motion picture and is set to screen at the Glasgow Film Festival in Scotland this week where Sean is expected to attend.