NECA Release Schedule, HP Trading Cards, HP Scene It? Tin, Lego Castle Images, More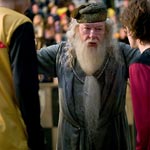 Feb 12, 2007
Uncategorized
Well the Harry Potter Product watch continues again with another sizeable update for you on many of the new products due this year.
First up: TLC reader Alex let us know new HP 3-D trading cards are due to ship in April of this year. This set of new cards "set features 54 cards in stunning 3-D Technology and trading cards with an overall total of 72 cards to collect. These 3-D cards that require no special glasses to view, but instead use a lenticular process creating 3-D effects so lifelike that you'll swear you're watching the scenes on the big screen!"
Next, news from Figures.com who now have the release schedule for those fantastic new Harry Potter action figures from NECA due this later this spring. It is as follows:
* Order of the Phoenix Series 1 (May '07):Harry Potter
* Hermoine Granger
* Ron Weasley
* Sirius Black
* Order of the Phoenix Series 2 (July '07): Each figure in this series will include a separate piece to the 'Requirement Room Death Eater' build-a-figure.
* Severus Snape
* Harry Potter (new sculpt)
* Dumbledore
* Death Eater (three different versions!)
The website reports that NECA will also release a large box set of the figures, with a special Harry Potter vs Lord Voldemort confrontation set, as well as a Hagrid box set that will contain figures of his pets Fang, and baby Norbert.
RowM.com let us know about the masks for the new Harry Potter costumes we reported on previously.Via this link you can see some startling images of the Death Eater masks belonging to Bellatrix Lestrange and (possibly) Lucius Malfoy.
In other product news, we have our first look at the tin for second edition of the Harry Potter DVD Scene It? game we first told you about several weeks ago which features that new photo of the trio of Harry (Dan Radcliffe), Hermione (Emma Watson) and Ron (Rupert Grint.). The new game, which will indeed include new footage from Harry Potter and the Order of the Phoenix, will retail for $34.95 (USD) and be on store shelves this summer.
Finally….Just when you thought it was safe to go back to Hogwarts comes Umbridge, the Mini-Fig! Her minifig is part of the 1000 piece new version of the Hogwarts Castle due out this summer, and you can see a preview of this new Lego set here, courtesy of asmzine.
Phew!
Thanks to Alex, Figures.com, RowM.com, and Asmzine.