Jason Isaacs on Playing Lucius Malfoy: "Unalloyed Nazi Evil"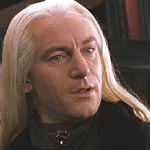 Feb 14, 2007
Uncategorized
As we've told you previously, actor Jason Isaacs is currently appearing in a West End production of Harold Pinter's play "The Dumb Waiter." The London Theatre Guide has a new interview where Jason talks about this play, his past work in theatre, as well as about his role as Death Eater Lucius Malfoy in the Harry Potter films, which describes as portraying "unalloyed Nazi evil." Mr. Isaacs is quite appreciative of his involvement in the series as noted below:
"When he did return to the scowling world of the evil-doer, it was in the most high profile of ways in the most high profile of films; playing prominent Deatheater Lucius Malfoy in the Harry Potter series. While talking about this role, Isaacs turns into what can only be described as a big kid: "It's obscene that I get paid," he beams, "people should complain. I've got a four-year-old, she's got a dress-up box in her room and nothing touches Lucius Malfoy. She's got fairies and wizards and witches and superheroes, and nothing touches it. I get there and I say 'Can I have a cane with a wand inside it? Can I have a cape? Do you think I could have a belt with a snake's head on it? Do you think I can blast that wall and it blows open and I walk through it?' It's absurd a man of my age doing that stuff. And then you get there and realise you're doing scenes with Gary Oldman and Helena Bonham Carter. I look at the call sheet and they're going to be there today, I'm going to get to talk to them. Before you know it you're having lunch and sharing HP sauce. It's fantastic."

"If you're someone like me," he continues "who finds work enjoyably tortured — I'm constantly niggling away trying to make it better and realer and more three-dimensional — it's nice to leave all that at home and turn up at Harry Potter and just be unalloyed Nazi evil."
The Dumb Waiter is due to run until March 24 at Trafalgar Studios in London, England. You can see some new photos of Jason as he appears in this play, here in our galleries (additional images from press conference, here.) Jason will also be appearing in "The State Within" mini-series which will be broadcast this Saturday on BBC America at 9pm (ET).