New NECA "Leaky Cauldron" Sign Due This Summer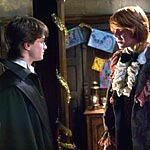 Feb 14, 2007
Uncategorized
A bit of a confession now…This editor fully admits that out of the many many new fantastic Harry Potter products that have been previewed here in the past couple of days, I am most excited by this new Leaky Cauldron sign due from NECA (closer look here.) Fans will remember of course, this sign hangs outside the famous pub, as seen here from Harry Potter and the Prisoner of Azkaban.
Yay!

Update: You can see a better image of the sign here at toytraderz.com
Please note: We are trying to get a better image of this and will update with more on that as soon as we can.