"Equus" Director Talks Dan Radcliffe and Harry Potter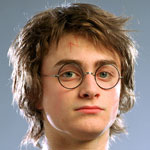 Feb 16, 2007
Uncategorized
The Independent newspaper has a new interview with, Thea Sharrock, the director of the play "Equus," which stars Dan Radcliffe (Harry Potter) and Richard Griffiths (Uncle Vernon). The paper notes that that there has been "£1m in advance ticket sales" in anticipation of this production, which begins previews tonight in London. The director of the play addresses the flurry of response to Dan taking on this role in a play which contains mature themes and nudity, noting
"If you want to be an actor, then you need to be tested and I can't think of a more testing part, apart from Hamlet, for this age," says Sharrock. Is he ready for the challenge? "The peculiar life Dan's led has prepared him for things that most people will never have to deal with. To watch the ease with which he deals with things is extraordinary and immediately gave me great faith in the fact that he had as good a chance as anybody of pulling it off, if not better."
Ms. Sharrock also goes on to address the controversy over some of the new promotional photos of Daniel in this play, as she says:
"There is unquestionably a very dark side to the play – that's what makes it so visceral and exciting – but it doesn't take away from the fact that it's an exceptional piece of playwriting and it's time to see it again. It's too good for yet another generation not to see it. At some point, you have to hold your hands up and say you can't please all of the people all of the time. But perhaps some of those people will come and see it and be bowled over by Daniel's performance – not Harry Potter, but Daniel Radcliffe – and forgive us for doing it. He's not a fictional boy who lives in a book."
Thanks to DanRadcliffe.com!