New Ask Peeves Widget and Countdown Desktop Item; Quote Conjurer Featured and Favorite at Apple.com!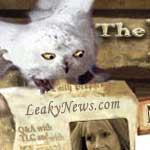 Feb 17, 2007
Uncategorized
We've got plenty of widget/countdown/download info, so let's get right to it:
1. Our popular Harry Potter Quote Conjurer has at long last been updated with character quotes and illustrations from Lupin, McGonagall, Moody, Neville, Percy, Tonks, and Umbridge. It is also today's Featured Widget and a Staff Favorite on Apple.com. Hats off to Chris Chang and Heather Campbell once again! A Yahoo! version is coming shortly.
2. Our joint Harry Potter and the Deathly Hallows and Harry Potter and the Order of the Phoenix countdown is now available as a Windows desktop item. You can download it by right-clicking and saving this file; get full instructions on our countdowns page.
3. Our "Floo Network" search widget, through which you used to have to search separate sites separately, has now been combined into one search box widget, the Ask Peeves widget, now available for download for Mac. A Yahoo! version is coming shortly.
4. Our joint movie and film countdown AND our book-only countdown are now available for Windows or Mac via the Yahoo! widget engine; click here for the book countdown and for the movie/book countdown.
Phew. We think that's it. More soon!