New Interview with Dan Radcliffe on "Equus"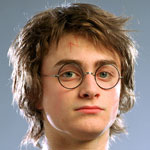 Feb 02, 2007
Uncategorized
Actor Dan Radcliffe (Harry Potter) has given a candid and frank new interview where he discusses his upcoming role in the stage production of "Equus." Making his first remarks since those new revealing photos promoting his play appeared online last week, Dan says he has been working out at the gym and he feels "OK about my body." As "Equus" is a very serious and intense play with a mature theme, it also requires the actor to appear nude on stage, and Dan says he is comfortable with this, noting:
"I'm fine about it," he tells me, grinning, still on a high from a long day's rehearsal. "Equus is an iconic play. The nude scene is part of it. I can't do it with my pants on. That would be rubbish."

Does he admit to any embarrassment? "We've done the scene a couple of times in rehearsal. I had no particular qualms…The key to serious acting is to lose your inhibitions, to become free and fearless."
This article goes on to cover other topics such as Dan taking a year off from school to work ("I didn't like school much, talked too much, got easily distracted"), the differences between working on stage and in movies ("The techniques are so different from film, even just the basics about projecting your voice without sounding as if you're yelling your head off"), and even about his social life, where he notes he is not currently dating anyone ("I think people are shocked that I've had girlfriends, which I have, and tend to think I'm a Peter Pan figure – but I'm definitely not, I promise you!").
The young actor does not shy away from question, and often give candid and thoughtful answers about such things as his wealth and fame that he has achieved from his role in the Harry Potter films. Dan says
"My closest friends – who tend to be people I've met through working, like my best mate Will Steggle, who was my dresser on Harry Potter – just say to me, 'You're blessed. You don't need to worry.' I know I'm lucky to be paid all this money to do what I love doing."
Equus begins previews February 16 at the Gielgud Theater on Shaftesbury Avenue.
Thanks to Page and Wendy!