Pre-Orders of "Deathly Hallows" Set Records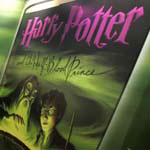 Feb 02, 2007
Uncategorized
After the announcement of the July 21, 2007 release date for Harry Potter and the Deathly Hallows, many people quickly took advantage of the available pre-orders for the book. Amazon.com announced that pre-orders for Deathly Hallows "were 547 percent higher than for its predecessor" Harry Potter and the Half-Blood Prince, for which some 1.5 million pre-orders were placed. The book quickly took the number one spot on their best seller list. Other online retailers also moved to accept pre-orders, including Barnes & Noble, and Borders, which announced that if you place a pre-order with them, you can even get a choice of some fun stickers asking is Snape: Friend or Foe? as part of their "Great Snape Debate."
If you are interested in placing a pre-order for Harry Potter and the Deathly Hallows, you may do via the links below, where proceeds go to benefit the entire Floo Network. Available are:
On a related note, the New York Times has a very interesting article about life after the Harry Potter books for the publishers and the large financial impact the books have, noting:
On the London Stock Exchange, the announcement of the new book's publication date by Bloomsbury, Ms. Rowling's British publisher, sent its shares up 2.2 percent. In New York trading, the shares of Scholastic rose about 1 percent in the morning but fell back by afternoon. In a year without Harry, his absence becomes an excuse for falling sales.