Press Coverage of "Deathly Hallows" Release Date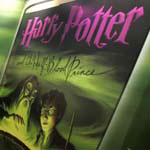 Feb 02, 2007
Uncategorized
As you can imagine, there was strong reaction to the announcement of the release date for Harry Potter and the Deathly Hallows, and it brought with it world wide media coverage on a variety of levels.
Scores of you let us know the AP ran this story about the excitement shared by Harry Potter fans, which included reaction from some of the readers of this website, in an article which was carried by many media outlets.
"Readers immediately rejoiced, with dozens of ecstatic messages posted on the Potter fan site, www.the-leaky-cauldron.org, within minutes of the announcement. "OMGOMGOMGOMG!!!!!!!!! I CANNOT BELIEVE THIS!!!!" read one typical message."WAH!!! I think I'm going crazy!!!! We finally have a date!!!" added another fan.

Other comments were sadder, noting the series' conclusion.

"I can't wait to read the book, but at the same time, I'm afraid to read it," read a message from a fan named Christine, who identified herself as a "30-something" mom. "I can't stand the thought of anything happening to the characters that I've grown to love! What an odd feeling."
Other outlets focused on the anticipation for the actual day of the release, with the Scotsman reporting on the anticipation of a big release event in Scotland, which there was no word from the powers that be on "whether Edinburgh will again host the main launch event for the book," and those plans remain unclear at this time.
Meanwhile, there was coverage of a plan afoot to open a help line, in possible response to those who may be upset by the events in "Deathly Hallows." Uk bookseller Waterstones is setting up a help line just for distressed fans who may be upset by the two characters deaths that are to take place in book seven (as announced by Jo last summer on the Richard & Judy Show ). The article notes:
"This could be a similar moment to when (pop band) Take That split up — there could be a lot of upset teenagers out there," said Debbie Williams, a buyer for the book chain.

"We are looking to set up a helpline for them."
Book Seven in the Harry Potter series, Harry Potter and the Deathly Hallows, will be released July 21, 2007.
Thanks much to all who emailed!