"Deathly Hallows" Advertisements Starting to Appear in Stores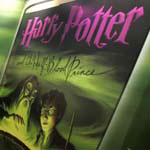 Feb 20, 2007
Uncategorized
As we told you previously, since the release date for Harry Potter and the Deathly Hallows has been formally announced, retailers are beginning to advertise and promote the book. In addition to the posters from both Scholastic and Bloomsbury available to download and print at home, Borders is now handing out new bookmarks, which you can see here. Continuing on the Snape: Friend or Foe stickers from earlier, these bookmarks list some reasons which lend support for the perhaps unsung hero Severus Snape or give reason to distrust and despise the ex-Potionsmaster. Booksellers B Dalton and Barnes and Noble also have signs here, and here, in their stores as well. If anyone spots a sign or any advertisement for the book while they are out and about, please send it in as we will continue to update our "Deathly Hallows" ad gallery with all the images as we get closer to July 21.
Update: New bookmarks from U.K. bookseller Waterstone's, as seen here, and WH Smith, here, and here.
Thanks Clark Jeff,JMC and Mundungus !!