Entertainment Weekly Ponders End of Potter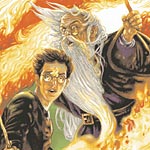 Feb 22, 2007
Uncategorized
This week's issue of Entertainment Weekly features an article on the end of the Harry Potter publishing era, noting ways in which U.S. publishing house Scholastic can make up for Harry's absence. You can see that article in our gallery here and a transcript of it below. Thanks, Sam!
~*~
Harry Potter publisher Scholastic faces a future without the Boy Who Lived.
Fans won't be the only ones crying into their butterbeer when Harry Potter and the Deathly Hallows – the seventh and final book of J.K. Rowling's series – arrives July 21. The bittersweet goodbye also marks the end of an era for Rowling's American publisher, Scholastic, which has put more than 121.5 million Potter books in print since the saga began in 1998. So how will they handle life without Harry?
First, by cultivating franchises – like Meg Cabot's Allie Finkle's Rules for Girls series and Cornelia Funke's popular Ghosthunters novels. The publisher is also banking that future generations will catch Pottermania. "Luckily for us, there is no end to Harry Potter," says Lisa Holton, president of Scholastic's trade and book fairs division. "I'd much rather be sitting here trying to think about how to sell Harry to new readers than not." Still, booksellers are mourning the loss of a phenomenon that is yet to be matched. "All of [the recent children's-book series] combined don't equal the Potter series" in sales, notes Kim Brown, VP of merchandising for Barnes & Noble.
Of course, Scholastic does have some time to find its next cash cow: Three more film adaptations, including July 13's Harry Potter and the Order of the Phoenix, will boost sales. And within hours of its announcement, Deathly Hallows shot to the top of Amazon.com's best-seller list, where it's likely to stay as it building a five-month buzz. Plus, if Rowling's fortunes ever dwindle from the billions to the millions, perhaps she'll whip up a sequel. (Hey, a Muggle can hope, right?)