Presenting: the comprehensive Deathly Hallows guide and charity drive… HarryPotterSeven.com!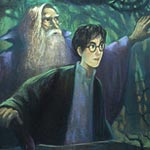 Feb 22, 2007
Uncategorized
We have a hugely, tremendously special announcement tonight. It is the culmination of six months of work and the start of what we hope will be another show of Potter fan unity as we go into these last few months before book seven.
We have just opened HarryPotterSeven.com, the Floo Network's all-inclusive guide to Harry Potter and the Deathly Hallows. Here you will find simply the most thorough, most researched guide anywhere to book seven, wrapping up six books worth of plot and theories, giving tips on how to predict what's coming, shaking details out of Jo's many years of interviews, and more. It is written by some of the most knowledgeable fans online, including our partner Steve Vander Ark from the Harry Potter Lexicon, who wraps up the first six books of story. Our ever-lovely Lisa Bunker, web madam of Accio Quote!, the only complete online source for J.K. Rowling interviews, gives a rundown on what Jo's own words mean for this novel. Leaky's Sue Upton has contributed a beautiful essay on her feelings on being a fan, Jason one on the fan journey, and Kristin a compendium of some of Leaky's most memorable letters; these three pieces together constitute the context and personal stories necessary to giving this guide its proper weight. There are 17 more chapters on everything that we currently know may play a big role in the final book: the horcruxes, love, significant characters, the prophecy, and more. It is literally the most exhaustive thing you can possibly read about what's coming in the final Harry Potter. You can also discuss it all right here.
And there's a twist.
The team of incredible people who came together to create this guide, these several hundred pages of text and thoroughly researched essays, have all donated their time for free, which we thought was enough of a sacrifice. Then they went a step further: They all donated their time and effort to charity.
The unveiling of this project also marks the unveiling of Last Books, First Books, the fifth "Get a Clue" literacy drive. We didn't do one in the winter of 2006 because we were waiting for this project to be ready. This is a straight donation drive, unlike in past years when we have sold items and trinkets. This time, we're collecting from now through July 21 in the name of Harry Potter fans, to go to Book Aid International. This will be an ongoing drive (with many announcements and activities around it from now through July) through the publication of book seven. As we count down this time together, we will also be able to show the world how grateful we are for what Harry has brought to our lives, and we can do that by giving what Harry has given us back to the world.
If you like what you read in this guide, if you agreed/disagreed/loved/hated a theory, if you thought it was worth your time, or if you didn't read it at all but just love the cause, and you can afford it, please consider dropping a donation into the coffers. On July 21 we will announce the results of our drive.
Because of you all this site has given more than $35,000 to charity so far. The first time we did it, we did it because we wanted the contents of book five. This time we do it for no other reason than the satisfaction that we've done our part to make sure everyone has a chance to experience Harry the way we have.
We hope you enjoy this guide. It could not have happened without all the contributors you see in the acknowledgments, especially Julie Tynion, Nina and Ann; Robert for coding everything; Nick Rhein and Doris Herrmann for helping coordinate, Polly Beam for her gorgeous art, and so, so many other gifted people whose talents were so generously offered here.
Happy reading! And happy donating. 🙂 Let's show everyone how we do it, one more time.