LeakyNews Now on Amazon.com!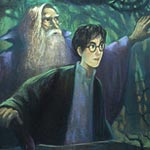 Feb 23, 2007
Uncategorized
We're just thrilled to finally be able to announce today yet another way for you to enjoy Leaky in these times before book seven: on Amazon.com! Since the middle of February Leaky's news feed has been live on Amazon's Harry Potter-related pages; you can add the news feed to your Amazon "Plog" so that you can always get our news delivered to your Amazon.com box. See our blog page for more information!
We hope you enjoy this newest way to enjoy Leaky, and we are so excited to be able to bring it to you!