Harry Potter Films Top New UK Poll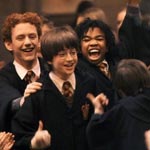 Feb 25, 2007
Uncategorized
In a new survey conducted in the UK, Harry Potter and the Philosopher's Stone was voted the most favorite British-made children's feature film. Conducted by First Light Movies and the UK Film Council, results of the poll showed:
Harry Potter and the Philosopher's Stone came first with 34% of the poll, closely followed by the third movie in the series Harry Potter and the Prisoner of Azkaban with 32%.
Family classic Chitty Chitty Bang Bang follows in third place with the latest Wallace and Gromit adventure – The Curse of the Were-Rabbit, in fourth.
This poll was conducted to mark the upcoming First Light Movies Awards which honors short films made in the UK. Several actors from the Harry Potter films are expected to attend the awards program, including Imelda Staunton (Professor Umbridge), Katie Leung (Cho Chang) and Bonnie Wright (Ginny Weasley). This event will be held on Tuesday, February 27 in London, England.