Accio Quote! Update: Nine Older Interviews with J.K.Rowling Now Online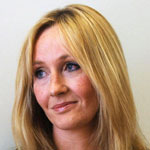 Feb 26, 2007
Uncategorized
As we get closer to the release of Harry Potter and the Deathly Hallows, it is fitting that we still continue to discover and enjoy older interviews with author J.K.Rowling that may help us gain some additional insight into the Harry Potter books (or at least provide some nuggets from the interviews for fans to pore over). Such is the case today as our Floo Partner Accio Quote! have now posted online some nine interviews with J.K. Rowling that were conducted back in 1998. There were a few new gems in these rarely seen articles, including this batch of new canon related quotes from an interview in The Herald:
JKR: "To invent this wizard world, I've learned a ridiculous amount about alchemy. Perhaps much of it I'll never use in the books, but I have to know in detail what magic can and cannot do in order to set the parameters and establish the stories' internal logic."
JKR: "the books do explore the misuse of power, and there's an attempt to make some sense of death"
JKR: "it's indecent the amount of time I spend thinking up wizarding ways to subvert arrogant Muggles."
Difference between charms and transfiguration? JKR: "With a charm you add properties to something. With a transfiguration you change its nature completely; the molecular structure alters…"
For additional insights like this, be sure to read a summary of quotes from Jo regarding Deathly Hallows, a Timeline of events leading up to the last Harry Potter book, and much more via our newly launched HarryPotterSeven.com, as well as enjoy the largest collection of quotes from J.K. Rowling on the net found at Accio-Quote.org
Thanks much to Lisa and to Jacob Kaufman for finding the new articles!