New Dan Radcliffe Interview in the Telegraph, Makes New Forbes List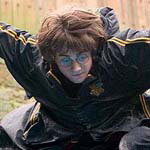 Feb 26, 2007
Uncategorized
There are several pieces of news related to actor Dan Radcliffe for you today.
First, the Telegraph newspaper has another new interview with the Harry Potter actor who gives some thoughts as his new play "Equus" is set to officially open to the public tomorrow in London. In this article, Dan Radcliffe addresses his career choices as an actor, and taking on a part in this serious play.
"JR Maiming a horse is a far cry from riding a hippogriff, isn't it?

DR Completely. There came a point on the third Potter film when I thought, acting is what I want to do. I thought it would be a bad idea to wait till the Potter films were all finished to do something else. There are certain people who will be more than happy to see you in any other role you like, and there will be some who will never, ever see you as anything other than Harry Potter. Once you've accepted that, it's fine – you just do whatever you like. With this, they can say I'm good or terrible but the one thing they can't say is I haven't challenged myself."
In a second piece of news, Forbes has released another list, this time of "Young Hollywood's Top-Earning Stars." Dan Radcliffe is ranked at the number two spot, with the magazine saying Dan earned $13 million (USD) for his role in the upcoming Harry Potter and the Order of the Phoenix. Additional quotage:
Rank: 2
Estimated earnings: $13 million
Age: 17
Profession: Actor

Wizardry and witchcraft have never been an especially lucrative field. Not so for this British teen. His salary for portraying Harry Potter in the film adaptations of J.K. Rowling's wildly successful novels has reportedly increased fiftyfold since The Sorcerer's Stone in 2001. (He is rumored to get a slice of merchandising revenues off the next flick.) Radcliffe's pared-down performance in the British stage revival of "Equus"–he appears nude at one point–is already cultivating him legions of, ahem, more-mature fans.