Brazilian Translator Gets Ready for "Deathly Hallows"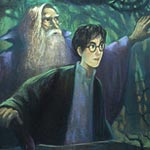 Feb 27, 2007
Uncategorized
Following an article from the Guardian about the unique process of translating the Harry Potter series we told you about last month and a more recent story of the Hebrew translator of the books at a Jerusalem book fair, Reuters posted an interview today with Lia Wyler who is set to translate "Harry Potter and the Deathly Hallows†for the Brazilian edition of the final book this July. She has had the privilege of translating the series since the first book and says:
"When Rocco bought the translation rights for the first two, I had just received an award for the translation of Sylvia Plath's "The-Doesn't-Matter-Suit," also a Rocco title," said Rio de Janeiro-based Wyler.

"This and my knowledge of British culture made me a natural choice,"

How do you translate things such as quidditch and muggles?

"Initially the series was meant for children so I tried to convey the idea behind each of Rowling's creations. Quidditch, a game played with four balls, became "quadribol" and "muggles" became "trouxa" (fool), a lucky guess among hundreds of possible meanings."
"Harry Potter and the Deathly Hallows†will be released in the States and U.K. on July 21st and the Brazilian edition will be released near the end of the year, but no final date has yet been announced.