J.K. Rowling Speaks Out on MS Treatments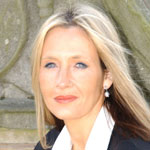 Feb 28, 2007
Uncategorized
Author J.K.Rowling is speaking out again on an issue near and dear to her, Multiple Sclerosis, and the potential loss of access to a drug which helps fight in the battle against this disease. Jo, who is a patron of MS Society Scotland, is protesting a proposal by the Scottish Medicines Consortium which feels that a certain type of medicine should no longer be prescribed to patients due to high costs. The drug, Tysabri, which costs "£15,000 a year per patient," is used to treat an aggressive form of MS. Jo is asking the group to reconsider their proposal and says :
"I know from personal experience that MS can have a devastating effect on everyone who comes into contact with it. My mother suffered terribly with MS and it was so frustrating that there was little or nothing doctors could do to help her.

"If a drug can help tackle MS – particularly the very aggressive type of relapsing MS we are talking about – it should not be ruled out because of cost alone.

"Once again, decisions about treatment are being made by accountants rather than clinicians, and I hope MSPs will speak up on behalf of the thousands of families affected by MS across Scotland," Rowling said.