Attorney for JKR : No E-Book Version of "Deathly Hallows"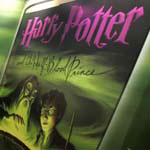 Feb 04, 2007
Uncategorized
The Associated Press is reporting today that an attorney for author J.K. Rowling has stated there will be no e-book version available of "Harry Potter and the Deathly Hallows." Those hopeful for a text version of the last Harry Potter book to download are out of luck, as there not been versions available for purchase in this form before, and Jo apparently has no plans to do as such this time as well.
"Rowling has cited two reasons over the years: concern about online piracy (which has never been a major problem for the Potter books), and the desire for readers to experience the books on paper. E-books, hyped as the future of publishing during the dot-com craze of the late 1990s, remain a tiny portion of the multibillion dollar industry."
Harry Potter and the Deathly Hallows will be available in bookstores July 21, 2007.
Thanks sdi!