Leaky Presents…Fan Art!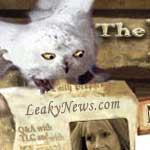 Feb 04, 2007
Uncategorized
In a week that's seen the announcement of a release date for the last Harry Potter, it's going to take a lot to get us excited. So, we're not. We're ecstatic to bring you our latest project, one we've been working on for more than eight months. Presenting…the Leaky Fan Art Galleries!
This is a fully featured, free archive for any fan artist who wishes to showcase his or her art. You can get to them at art.leakynews.com, if you're looking for a shortcut. 🙂 The galleries were created from scratch on advice from fan artists on how to create a gallery that would suit their needs, and as such incorporated many features suited just for fan artists. Every artist can have their own profile, with features including:
Individual RSS feeds for each artist
Comments
Embeddable Flash badges for each picture
Albums
Tagging for easy searching
Ratings
Full artist control of comments, albums, pictures
Categorization of pictures by type, size and media
Polls
Artist profiles and announcements
Send pictures to friends
Multiple methods of browsing and sharing for an easy interface
The galleries also work with LeakyLounge, our forum, so that anyone who has an account there also has one on the fan art galleries; the same logins will work in both places. In addition, fan artists will be marked as such if they so choose, on the forum, with a colorful badge.
Our programmer Alex Robbin, or Super!Alex as he is more colloquially known, created these galleries completely from scratch and we think he's done an amazing job. John Noe designed the layout, with illustrations from artist Marta (on the galleries as artdungeon) gracing the layout. We've invited some of our favorite fan artists to populate the galleries before they opened, so it is already full of more than 100 stunning pieces of artwork for you to peruse. We've had amazing input and help from artist Heather Campbell, and the project could not have been completed without Donna, Peggy, and Elizabeth18. ErinRae, who has also helped a great deal, is the new manager of the Fan Art Galleries.
We hope you enjoy this exciting new addition to the Web site; this is simply the beginning of what we have in store for these galleries! So, until version 2.0…enjoy!