PotterCast 75 Now Live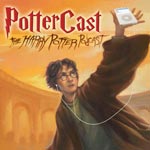 Feb 04, 2007
Uncategorized
It's Deathly Hallows discussion galore – plus an announcement of a British variety – in this week's PotterCast, our Harry Potter podcast, which is now available. listen, just hit the "Play" button on the right side of the page (—>), or use
iTunes, or direct download. Notes and more info:
The big news is out: Harry Potter and the Deathly Hallows is coming to stores July 21. The real discussion about it begins this week, including:
–Where is the book now? What does it go through from now to publication?
–Whenish will the cover art come out?
–How will the marketing for the book and film actually coincide (no pictures of Dan Radcliffe holding a book, no Mary GrandPre drawings of Dan Radcliffe, no movie tickets at bookstores, no book giveaways at movie theaters, etc…)
–What will happen to Leaky and PotterCast after book seven?
–And a lot more
-Another big announcement: The PotterCasters are hitting London!
-Canon Conundrums: Why did the students give Harry notes from Dumbledore in book six?
-Does a 16-year-old ever not open a note?
-Why did no one know who their messages came from or what they were about?
-Why give messages to Harry THIS way?
-Why did Jo write this this way?
-Do the horcruxes relate?
-Is it a safety precaution?
-A fan interview with the unheard stars of PotterCast – the editors! The OTHER MJS – Mike, Jeff and Stede
-[Expletive] and humor on the cutting room floor
-"Edit. That. Out."
–Pick a countdown, any countdown
–New blog challenge! (Our old one was kinda scrapped.)
–The Uck
–Outtakes
Editors:
Fan Interview: Stede Bonnett
CC: Michael Neighbors
Trio/Final: Jeffrey Gregory
Direct download (30MB).
Direct download low-bandwidth (9MB).
Remember you don't need an iPod to listen. Listen easily on iTunes, which you can download and install here, by clicking here to listen, or you can just use the streaming Flash player at PotterCast.com or just on the right side of this page. Discussion of the PotterCast is right here. Enjoy!