Countdowns Available as Widgets; Honored by Apple.com!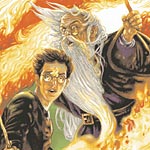 Feb 05, 2007
Uncategorized
Leaky's countdown for Harry Potter and the Deathly Hallows and our joint Deathly Hallows and Order of the Phoenix countdown are now available for download as Mac OS X widgets; Yahoo! versions are coming soon. Our book countdown has also been honored as today's Featured Widget on Apple.com!
Chris Chang, our awesome widget maker, converted these Flash countdowns to widget form. You can get the widgets here and choose from any of our three live countdowns here.
Before you ask: Desktop versions coming soon. 🙂