New Harry Potter Scene It DVD Game to Contain "Order of the Phoenix" Footage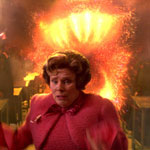 Feb 07, 2007
Uncategorized
A few weeks ago TLC first reported there would be a new Harry Potter Scene It? DVD game due this summer as part of the release of Harry Potter and the Order of the Phoenix. It has now been confirmed that the Scene It? Harry Potter 2nd Edition will indeed contain new footage from the upcoming Phoenix film. We do not yet know the amount of new film footage to be included in this game and will update with more on this when we can. You can find out more about the first Harry Potter Scene-It DVD game via this link.
On a related note, Cards Inc is set to unveil a "Destination Hogwarts" boardgame as part of the upcoming new Order of the Phoenix products. The BBC reports that they hope "to shift 500,000 copies of the Harry Potter game, which retail at £19.99." This game is also expected to be on shelves in early summer.
Thanks Pete for the bbc link!