Cast Watch: Davis, Smith and Walters News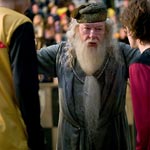 Feb 08, 2007
Uncategorized
Here are a few pieces of news regarding some of the cast members of the Harry Potter films, involving some of their other projects.
Warwick Davis, who plays Professor Flitwick has now been cast in the second of the Chronicles of Narnia films. As noted on the official Narnia film website, Warwick Davis will be portraying Nikabrik the Dwarf in the upcoming The Chronicles of Narnia: Prince Caspian. Mr Warwick will also be returning as our favorite Charms professor in the Harry Potter and the Order of the Phoenix, which will be in theaters July 13.
Acclaimed actresses Dame Maggie Smith (Professor McGonagall) and Julie Walters (Molly Weasley) are starring together in a new movie based upon the early life of another of our favorite authors, Jane Austen. The trailer for "Becoming Jane" is now online, which you can see here. This film is due to be released in August.
Thanks to Paul from Narnia Fans.com, and all who emailed!