Harry Potter Books Rank Fourth This World Book Day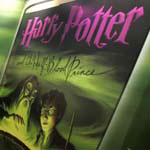 Mar 01, 2007
Today is World Book Day, and to mark the occasion, a survey was conducted asking readers to nominate "The ten books you can't live without." The Harry Potter books came in fourth place, with 12 percent of the votes. The top spot went to Pride and Prejudice, the great classic novel by Jane Austen; others on the list include works by Harper Lee, Emily Bronte and J.R.R. Tolkien. The top ten list is as follows:
1) Pride and Prejudice — Jane Austen 20%
2) Lord of the Rings — JRR Tolkein 17%
3) Jane Eyre — Charlotte Bronte 14%
4) Harry Potter books — J K Rowling 12%
5) To Kill A Mockingbird — Harper Lee 9.5%
6) The Bible 9%
7) Wuthering Heights — Emily Bronte 8.5%
8) 1984 — George Orwell 6%
= His Dark Materials – Philip Pullman 6%
10) Great Expectations — Charles Dickens .55%
You can read more about the voting via this link (pdf). Also, as we draw closer to the release of Harry Potter and the Deathly Hallows, readers will remember that Jo took part in a World Book Day online Chat several years ago. If you missed that chat before, be sure to read the transcript here, and watch a post chat interview with Jo here in our video galleries.
Thanks Michael!
Editor's Note: We at Leaky take literacy and the gift of reading as something very near and dear to us, noted again by our recently launched HarryPotterSeven.com and our charity drive for Book Aid International. While we are partial to a certain series of books by J.K. Rowling, we encourage you to take a few minutes this day and read a book that is near and dear to you as well. Happy World Book Day everyone!