A Half Full "Goblet of Fire" for Readers in the UK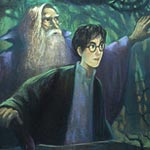 Mar 11, 2007
A new survey reveals that some readers in the UK left their Goblet half full, or own a partially read Harry Potter and the Goblet of Fire book that is. In a new study 4,000 Britons were asked about books they were unable to finish reading, and the results showed that "just under a third (32%), of adult readers admitted they did not get to the end of Harry Potter and the Goblet of Fire." More distressing came the news that:
More than half of those surveyed admitted they often buy books for decoration, and have no intention of actually reading them. The report found attention spans have shrunk in the digital age, with 42 per cent admitting they are unable to concentrate on long-winded tomes.

Many also revealed they found it difficult to dedicate time to reading for pleasure, with 48% saying they were too tired.
The top ten books the participants were unable to finish reading are as follows:
1 Vernon God Little, DBC Pierre
2 Harry Potter and the Goblet of Fire, JK Rowling
3 Ulysses, James Joyce
4 Captain Corelli's Mandolin, Louis De Bernieres
5 Cloud Atlas, David Mitchell
6 The Satanic Verses, Salman Rushdie
7 The Alchemist, Paulo Coelho
8 War and Peace, Leo Tolstoy
9 The God of Small Things, Arundhati Roy
10 Crime and Punishment, Dostoevsky

The top 10 non-fiction titles

1 The Blunkett Tapes, David Blunkett
2 My Life, Bill Clinton
3 My Side, David Beckham
4 Eats, Shoots & Leaves, Lynne Truss
5 Wild Swans, Jung Chang
6 Allen Carr's Easy Way to Stop Smoking
7 The Downing Street Years, Margaret Thatcher
8 I Can Make You Thin, Paul McKenna
9 Jade: My Autobiography, Jade Goody
10 Why Don't Penguins' Feet Freeze?, Mick O'Hare