CBBC Newsround Contest to Learn Secrets of "Phoenix" Video Game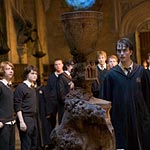 Mar 16, 2007
Uncategorized
CBBC Newsround has launched a new contest for fans in the UK to go behind the scenes and learn more on how the upcoming Harry Potter and the Order of the Phoenix video game is made. To enter, you must answer these two questions (in 50 words or less):
What is the name of Hermione's cat?

In less than 50 words tell us which character you most enjoying playing in the games and why?
You may enter via this link via the Newsround website or mail your entry to
Harry Potter Press Pack
Newsround
BBC TV Centre
London
W12 7RJ
All entries must be submitted by March 30.
Thanks Donna and HPANA!