Raincoast Books Preparing for "Deathly Hallows" Release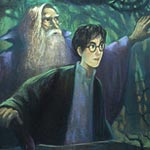 Mar 16, 2007
Uncategorized
In the wake of the big announcement this week from US Harry Potter publishers Scholastic on their plans for the release of Harry Potter and the Deathly Hallows, comes word now that Canadian publishers Raincoast are still in the final stages of planning how they will go about promoting the launch of the last book. CBC reports tonight in addition to the release of a Children's edition and an Adult edition of the book, their "planned Canadian gift edition, featuring slightly different artwork, and a large-print version will likely be released in the summer." The company is also planning large numbers of release parties in Canada as well.
"The last time, in 2005, [there were] something in the order of 300 events and parties on the opening weekend across Canada. This time, we're expecting probably about 400-plus," Broadhurst said.
Reps for Raincoast feel they will need a larger amount of events as expectations are high for this last novel and Harry Potter has continued to grow in popularity world wide.
"Aside from the separate but also beloved film franchise, Rowling's magical Harry Potter universe has spawned everything from devoted fan sites online to video games to academically inclined conventions attended by adults who dissect all aspects of the books.

"Some of the most exciting things about the phenomenon of Harry Potter is all of the culture and all the fanbase stuff that has nothing to do with the corporate players," Broadhurst said."
Harry Potter and the Deathly Hallows will be released on July 21, 2007.