WB "Extremely Confident" Emma Watson to Return as Hermione Granger in Potter Films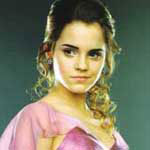 Mar 18, 2007
Uncategorized
There have been a spate of claims over the past few months stating that actress Emma Watson may or may not return in her role as Hermione Granger in the last two Harry Potter films, and this reached a fevered pitch over the weekend with several tabloid reports stating that she was definitely quitting. Here is a bit of news that will perhaps ease the fears of the scores of you who emailed: CBBC Newsround is now reporting today quotage from official sources that are laying to rest all these rumors, as WB said "We're extremely confident that Emma will be back for films six and seven." The report continues with this : "Emma, who plays Hermione in the films, is set to sign her new contract soon."
Just to put further fears to rest: We at Leaky have had the same information confirmed through our own sources.
Phew! More when we get it.