Severus Snape and a Fandom Enthralled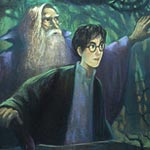 Mar 21, 2007
Uncategorized
Severus Snape. The mention of his very name immediately gets attention and never fails to conjure up a strong reaction among Harry Potter fans, especially given the events in Half-Blood Prince. The Baltimore Sun has a new article online featuring the nefarious Potionsmaster and how this character has become such a popular and widely discussed figure in the Harry Potter world.
"Severus Snape" on Google returns more than a half-million hits. A single blog-hosting site – LiveJournal.com – counts 390 communities and more than 400 users listing him as an interest, roughly the same number that list Harry Potter. He has songs written in his honor. YouTube videos. A monthly podcast. MySpace pages, for heaven's sake ("Severus Snape has 3,370 friends").

Even the bookstore chain Borders has chosen an all-Snape method of marketing Harry Potter and the Deathly Hallows, including the choice of pro- or anti-Snape bumper stickers when you reserve the book. (Pro is winning.)

When popular Potter fan site The Leaky Cauldron (the-leaky-caul dron.org) asked fans to vote for their favorite character last fall, Snape beat out everyone except Harry and his clever friend, Hermione Granger.
The article continues on to discuss the fateful events on the tower at the end of book six and what this means for the outcome of Snape in Harry Potter and the Deathly Hallows asking the questions long debated here in the fandom: Is this character ultimately good or evil, and will he live or die at the end of book seven?
"Our theory," said author Salman Rushdie, who rose to speak for us all at a reading Rowling gave in New York last summer, "is that Snape is, in fact, still a good guy."

And we really don't want him to redeem himself through death. If he can atone for his errors and live on, then – well – there's hope for all of us.

Alas: This is not how such tales usually go.

"He's the sort of character who … ends up dying sacrificially to prove his goodness," said James Krasner, an associate professor whose specialty at the University of New Hampshire is Victorian literature."
And the debate continues. Harry Potter and the Deathly Hallows will be released on July 21, 2007.