Confirmed: Radcliffe, Grint and Watson to Return for Movies Six and Seven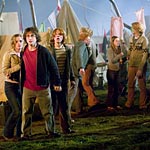 Mar 23, 2007
Uncategorized
Warner Bros. has let us know that all three of the main Harry Potter actors – Daniel Radcliffe, Emma Watson and Rupert Grint – are confirmed for the last two Harry Potter films, Harry Potter and the Half-Blood Prince and Harry Potter and the Deathly Hallows. The announcement puts to rest recent speculation that Emma Watson was going to leave her role, and means that the trio will be the only actors to play these roles in the Warner Bros. adaptations of the Harry Potter films.
In the press release, Daniel Radcliffe says:
"Playing the role of Harry Potter has been an immense privilege, and I look forward to completing the series. I feel a huge sense of loyalty to the character of Harry and the fans who have supported these films over the years. During filming, I have learnt so much, made lots of friends and met people who have changed my life. I am indebted to J K Rowling, Warner Bros. and David Heyman for giving me this fantastic opportunity."
Emma Watson says:
"I could never let Hermione go—she is my hero! I love her too much and love what playing her has meant to me. I am excited and honoured to be finishing what I started and playing her in all seven of the films."
And Rupert Grint says:
"Ron Weasley has become a big part of my life and not just because we've both got ginger hair! I've been so proud to play him and loved every second of being part of this world. I'm really looking forward to filming the last two films and being back with my 'Weasley family' and, of course, to seeing my good friends Emma and Dan. Thank you to everyone for being so supportive over the years; we couldn't have done it without you."
Jeff Robinov, President of Production, Warner Bros. Pictures, said:
"When Daniel, Rupert and Emma were first cast as Harry, Ron and Hermione, we knew they were not only talented, but had a very special chemistry. Through the years, and in each of the 'Harry Potter' films, we have watched them grow into extraordinary young adults, as well as remarkable actors. It would be inconceivable to imagine anyone else in the roles with which they have become so identified, so we are thrilled and proud that Daniel, Rupert and Emma have chosen to complete the arc of their characters in the final two films."
Producer David Heyman said:
"One of the highlights of this journey has been to witness Dan, Rupert and Emma blossom from children into young adults. They have emerged as consummate professionals who are dedicated to honing their craft and striving for excellence. And yet, throughout, they have retained their enthusiasm and spirit, and they remain, to this day, the same wonderful, kind and generous individuals I met all those years ago."
David Heyman and fellow producer David Barron are also slated to continue their work through the final films. A director has not yet been named for either film, though rumors about David Yates' return for HBP abound.
The fifth film, Harry Potter and the Order of the Phoenix, will debut on July 13, 2007.