Harry Potter, The Comic Book?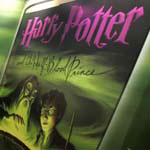 Mar 23, 2007
Uncategorized
Now that the title and release date for the last Harry Potter book, Harry Potter and the Deathly Hallows, has been announced, much speculation has begun on what could happen next for the beloved series that many do not want to see come to an end. For example, one comic book site has a new article online asking if the Harry Potter books would perhaps make a good comic book or graphic novel series, in the form similar to the new Stephen King Dark Tower Comics. Newsarama let us know about a short interview they had with a rep from Scholastic (US publishers of the Potter books) if they had any interest in producing a Harry Potter graphic novel series for their Graphix line.
Newsarama: David, does Scholastic/Graphix have any plans to adapt Harry Potter novels, or tell original Harry Potter stories in graphic novel form?

David Saylor: Scholastic/Graphix has no plans to adapt the Harry Potter novels into graphic novel format.

NRAMA: In your opinion, would the Harry Potter novels/characters/stories be good fodder for turning into comics?

DS: My personal opinion is that the Harry Potter books are perfect prose works, just as they are. But that said, they certainly they work as movies, too, and there's no reason why a brilliant graphic novel adaptation wouldn't be possible. J. K. Rowling is a writer who conjures great visual storytelling and I think any graphic artist would find adapting them an enjoyable challenge.
Thanks Matt!