Listening Library Confirms July 21 Release of DH AudioBook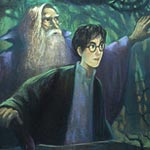 Mar 26, 2007
Uncategorized
Reader Sarah has informed us that Listening Library has confirmed that the Deathy Hallows audio book, featuring Jim Dale as narrator, will be released on July 21, 2007. It will run 21 hours and retail for $79.95. The first run number is unknown, but the publisher has said it will definitely be more than the 635,000 printed for Harry Potter and the Half-Blood Prince.
The publisher also noted that while they have rights for the digital, iTunes version, plans for release on that platform are as of yet unkown.
As previously announced, the British editions will feature Stephen Fry as narrator and, for the first time, will also be released at the same time as the print editions.