Maggie Smith on Prof. McGonagall : "Miss Jean Brodie in a Wizard's Hat"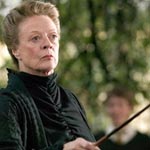 Mar 03, 2007
Uncategorized
There is a new interview online today with Dame Maggie Smith, where she briefly mentions her role in the Harry Potter films. In this feature from The Evening Standard, the Academy Award winning actress quipped that the role is "Miss Jean Brodie in a wizard's hat," and says that Sorcerer's Stone is her favorite of the movies. Quotage:
"Her characteristic blend of piercing wit leavened with sudden shafts of sadness has made her a prime exponent of Alan Bennett, but film roles no longer challenge her. Which of the Harry Potter films, in which she plays Professor McGonagall – "Miss Jean Brodie in a wizard's hat" – does she like most? "Is it five, now? I seem to be doing less and less. I liked the first one when I changed from a cat. The thing is, as I get older, the film roles seem to get smaller."
Dame Maggie Smith will be seen again as Professor McGonagall in the upcoming Harry Potter and the Order of the Phoenix. She is also set to open in a play in London, but that has been delayed by a few days, while she recovers from a bout of the flu.