Entertainment Weekly Feature on OotP: "Yates Likely to Return" for HBP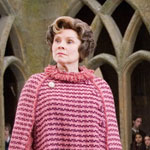 Mar 30, 2007
Uncategorized
The new issue of Entertainment Weekly that TLC first told you would feature Harry Potter is now available containing those new photos as well as an article which is now online. In this feature, there are new quotes from several of the actors such as Dan Radcliffe on the book vs the movie ("This is one where the fans will be especially pleased," the actor says. "It's chock-full of stuff.") as well as unnamed producers on the length of the movie("Phoenix will run under two and a half hours and be the shortest film so far"). The article also has quotes from Harry Potter and the Order of the Phoenix director David Yates, and the piece says of his possible return involvement in the Harry Potter and the Half-Blood Prince film:
"While nothing's finalized, Yates is expected to return for film 6, which is slated to begin shooting this September."
In addition to the new photos, this feature also contains short quotes from the actors such as Rupert Grint on not being able to have the Weasley is our King storyline ("I was quite looking forward to the Quidditch stuff," he says. "Maybe next year."), as well as funny comments from both Helena Bonham Carter (Bellatrix Lestrange) and Jason Isaacs (Lucius Malfoy):
"Today is Helena Bonham Carter's first day playing the evil witch Bellatrix Lestrange, Sirius' warped cousin as well as his mortal enemy. Her costume may be entirely black, but she's counting on her pushed-up bustline to help her stand out. "It's not a huge part," she says, her elocution remarkably clear despite a mouth full of fake teeth. "So I thought I could have lots of breast, if not lots of lines."

Meantime, a blond-wigged Isaacs, who jokes that he got his flowing tresses "on a time-share with Paris Hilton," keeps drawing out his shots with extra bits of dialogue and dastardly eyebrow flexing. He wonders how much of it will survive the editing room. "All of us adult actors come in for two or three weeks," he says of the huge Potter guest-star roster. "We all want to make the most of all our moments. But then you'd have a Harry Potter film that lasts 15 hours."
UPDATE: Thanks to reader Marcie, we now have scans of the article here in our galleries, plus the Emma Watson (Hermione) Cover-more on the way soon
Update2: Harrypotter sent us this nice scan of the Dan Radcliffe cover.
and finally Update 3: We now have the Harry Potter quiz scans thanks to reader Joanne.
! This issue of the magazine is available starting today.