"Deathly Hallows" and the Not So Happy Campers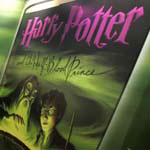 Mar 04, 2007
Uncategorized
The arrival of Harry Potter and the Deathly Hallows may result in a few not-so-happy campers this year, campers at summer resident camps that is. Newsweek magazine has a new article online discussing how summer camps are going to handle the release of the last Harry Potter novel, and their campers who want to go out at midnight to get their copy of this book. One camp is organizing a field trip to get the books, while others are refusing to let the campers out at such a late hour.
Jill Kleinman closed her children's bookstore to operate a summer camp, so she thought her days of catering to young bibliophiles and their parents were over. But last month "I got a call from a parent who wants to pull his child out of camp at midnight to get the new 'Harry Potter' book," says Kleinman, who runs Camp Taconic in Massachusetts. "I had to tell him no. It sets a bad precedent."
However things may not be all grim, for the camp leader has a compromise for her campers that may make everyone happy in the end.
"Kleinman is ordering dozens of books for counselors to read aloud to campers, and they'll be using the book for clout. "Getting them to bed is always a challenge, but we're going to tell them we aren't reading until they get in bed."