Leaky and the Liquid Luck Contest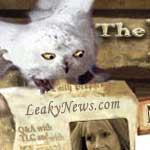 Mar 07, 2007
Uncategorized
Looking for a bit of Liquid Luck this March? Then TLC has the solution for you, of sorts. We are pleased to announce our newest contest that would make Professor Slughorn proud. This contest consists of stories written by you, involving some of your favorite characters from the Harry Potter novels, and what would happen one day should they take a drink of that lucky potion we learned about in Half-Blood Prince, Felix Felicis. In a short story containing a 1,000 words or less with a strict pg-13 content, the challenge is to describe a perfect day for one of the following characters:
Lavender Brown
Crabbe and/or Goyle
Dawlish
Argus Filch
Mundungus Fletcher
Cornelius Fudge
Hagrid
Victor Krum
Bellatrix Lestrange
Gilderoy Lockhart
Neville Longbottom
Luna Lovegood
Remus Lupin
Draco Malfoy
Lucius Malfoy
Minerva McGonagall
Mad-Eye Moody
Moaning Myrtle (assuming Myrtle could still eat and drink, of course!)
Peter Pettigrew
Rufus Scrimgeour
Stan Shunpike
Rita Skeeter
Severus Snape
Dean Thomas
Sybill Trelawney
Dolores Umbridge
Fred and George Weasley
Percy Weasley
Oliver Wood
All submissions must be mailed to [email protected] by March 17. One entry per person.
On a related note, we can now announce the winners of our Valentine's Day Contest and the creation of Amortentia for certain characters. First place went to Catherine who chose Hagrid as her wonderful entry. For a complete list of winners and their entries, click here. Congratulations to all who entered!