Radcliffe, Rickman and Isaacs Support New Film Club in UK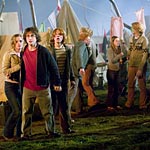 Mar 08, 2007
Uncategorized
Several actors from the Harry Potter films are to be part of an effort in the UK to introduce students to a wider spectrum and knowledge about films. A new initiative has now been launched in the UK called "Film Club" and actors Dan Radcliffe (Harry Potter), Alan Rickman (Severus Snape), Jason Isaacs (Lucius Malfoy,) and John Hurt (Mr. Ollivander) are all lending their support to this endeavor that will allow students to watch a variety of films and learn more about them. According to Variety, Dan Radcliffe and John Hurt have also volunteered to visit schools to help the students as well.
On the filmclub website, Alan Rickman is quoted as saying:
"Film Club is such a great idea. Play Stations and IPods are fun but there's nothing like sinking into a story and loving, hating or identifying with a character in a film. You, too, could be a writer, director, producer, cinematographer, editor, script-supervisor, make-up artist or grip. Or actor. Keep watching!"
Thanks Bre!