Review of New NECA Harry Potter Toys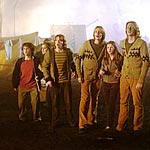 Mar 09, 2007
Uncategorized
Previously we told you about the new series of Harry Potter Products due from NECA. These products include a set of action figures and a new review of these items is now online. Featuring some fantastic closeup photos of these new toys, the article gives detailed reviews on each of the new Harry Potter, Voldemort, Death Eater and Dementor figures due this spring, with the author stating he just picked them up at his local Hot Topic store (these are not yet available online).
The review sums up with these thoughts:
I really, really wanted to love these figures. In the package they blew me away, It wasn't until I had them open that some of their more glaring faults came to surface. In the end, I placed a lot of weight on the sculpt and paint, and didn't take off as much for articulation, value and accessories as I might have.
…
Still, the Voldemort and Scary Deatheater are excellent. Had Voldemort had a better base, and not had that weird overly dramatic flip to the back of his robe, he could have been a four star figure.

…

Finally, there's our hero Harry. As much as I love the head sculpt, those damn glasses are just too distracting. Had they managed to capture the right size, he would have gotten a much better score. Of course, the lack of accessories at this price point would still hold him back from four star nirvana, but let's be honest – this is easily the finest Harry action figure so far.
On a related note, the official NECA website has been updated with more photos of all the Harry Potter products we showed you previously that were on display at the Toy Fair in New York last month. You can see some additional photos here in our galleries.
Thanks much Richard!