Sketch from "Goblet of Fire" on Auction for Charity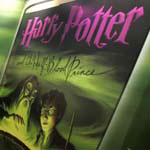 Mar 09, 2007
Uncategorized
A sketch by Harry Potter illustrator Mary GrandPre is one of two the artist donated for auction to benefit a center that helps those with cancer. A sketch made for Harry Potter and the Goblet of Fire is up for auction tonight in Sarasota, Florida, and you can see this image here. The Herald Tribune reports:
"…the Potter sketch, a pencil-on-paper work measuring 20 inches by 16 1/2 inches. It's one of, oh, a few Potter sketches GrandPré has worked on over the years.

"Let's see, there were six books, so far, and there's going to be a seventh," says GrandPré, the artist behind all the Potter illustrations.

"There were special-edition covers, maybe eight of those, and all the interior work. Add up all the chapters … I'd say, easily past 100 illustrations." That volume apparently doesn't take the luster off the chance to own a piece of Potter-mania. The piece donated for the Wellness auction is valued at $7,000.

A nice donation for a nice cause, says GrandPré.
You can see more of her Harry Potter artwork here in our gallery or via her website. Mary GrandPre will illustrate the Scholastic edition of Harry Potter and the Deathly Hallows. Thanks Michael!