With a Wave of the Wiimote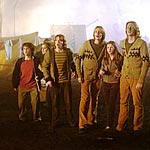 Apr 11, 2007
Uncategorized
Swish and Wiimote!.. Well it's not quite what Professor Flitwick would have taught at Hogwarts, but tonight, in addition to those new screenshot photos, IGN.com now has a feature online regarding the special Wiimote wand for use with playing the upcoming Harry Potter and the Order of the Phoenix video game on the Nintendo Wii console.
IGN reports the following on this cool control device that players use during the game:
"The Wii-specific controls for the game seem remarkably well put together. Once Harry's wand is drawn, the Wiimote can be used to directly control the spells you cast. Everything is handled through accelerometers; there is no pointing in the game whatsoever. Any of the game's spells can be cast quickly and easily, merely by a flick of the wrist. Thrust the Wiimote forward, and Harry will propel an object away from himself. Motion upward with both the Wiimote and nunchuk, and Harry will cause an object to levitate in the air.

Once you have an object floating, you can move the Wiimote around in 3D space to reposition it. This actually worked better than we had assumed it would, although it is not yet perfect. There are puzzles that require placing objects in specific places, which is somewhat irritating because of the inaccuracies involved in the motion controls. Despite this, it was a lot of fun to wave the Wiimote in the air and see Harry react in turn. Hopefully the spell system sees some refinement before the game's release because they were already enjoyable, even at this early state.
"
As we've been reporting, the game is due the week before the release of the fifth Potter movie on July 13. The Harry Potter and the Order of the Phoenix video game will be available on the the Nintendo Wii, Playstation 3, Xbox 360, PlayStation2, PSP, Nintendo DS, Game Boy Advance, and Windows PC platforms, and is available for pre-order here in our Cauldron Shop.
Thanks AD!